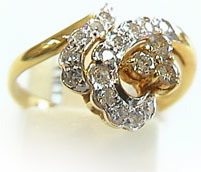 ABOUT US

Yong Huat Jewellery, a local Singaporean's owned company was established on year 1990.
In Teochew pronunciation 荣发or Yong Huat was considered an auspicious and popular words for business's name. The Chinese words 荣发 means "prosperous". Yoong Fatt was initially known as Yong Huat Jewellery which was later renamed to Yoong Fatt Goldsmith & Jewellery on year 1993.
Yoong Fatt offers range of services s including selling/buying jewellery products, custom-made, factory / coporate's anniversary gifts ordering, credit cards instalment at stores.
关于我们

荣发金庄珠宝行,新加坡公司创立于1990年。荣发-潮州发音,是吉祥的最佳生意宝号. 荣发提供买卖首饰,定做服务,工厂/机构纪念赠品定购,定做服务。此外还提供信用卡分期服务。